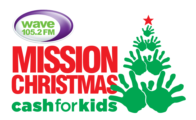 Donate a gift this Christmas
Mission Christmas at Meridian Waterside
This year Meridian Waterside in Southampton are proud to be supporting Wave 105 radio Mission Christmas.
This excellent charity collects present donations and delivers them to children who will not be receiving a gift this Christmas, ensuring every child has a present to open on Christmas Day.
Anyone who would like to donate a gift can do so by dropping it off at Meridian Waterside which is a registered drop off point. All gifts must be suitable for children ages 0-18, must be brand new in the packaging and unwrapped.
If Meridian Waterside is not local to you, there are plenty of other drop off points across the country. Visit the Mission Christmas website to find one local to you.
Following up from the Christmas campaign, the final number of children and teenagers who received a present was 38,289, which we proudly contributed to.